The people of ancient Greece and China had to apply tons of lead and vinegar powder on their faces to get a pale and perfect complexion. Traces of this bleaching powder have been found during many archaeological excavations.
Creativeside believes there are many easier and healthier options to make you look like a beautiful Greek goddess or an elegant Chinese beauty any day of the week. Go ahead, try it!
Best Makeup Tips To Look Younger
#1. Say "no" to natural light.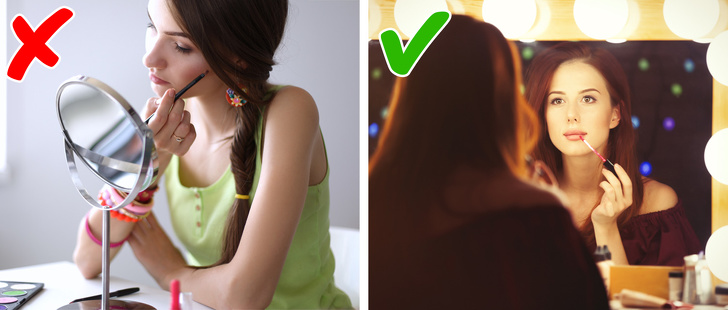 Obviously, a source of natural light in a room is very important, but despite popular thinking, natural lighting is not necessarily essential for makeup. We urge you: under no circumstances, even if it is cloudy outside, do not put on makeup in direct sunlight. What do you see when you look in the mirror in these conditions? Unfortunately, you see everything, and even more.
The point is that natural light is refracted by the window glass and flickers on your face. This gives the skin a fresh and opaque tone and highlights imperfections that would otherwise be less visible. You will definitely want to cover them when you see them, but in the end, all the lighting will give you a dirty makeup and a bad mood.
We recommend that you invest in a makeup mirror with lamps around. This type of light will fall frontally on your face and highlight each part evenly. Choose lamps with neutral temperatures, without shades of yellow or blue.
#2. Get some brushes.

In addition to cosmetic stores, synthetic brushes can be found in art stores. Its price will also be much lower compared to professional makeup brands.
A fine Japanese brush is perfect for drawing, as it is thin and firm. An angled brush is ideal for eyebrows. A small, angled oval brush can be used to apply lipstick without a trace of hair, and a larger brush will help you apply concealer or lip gloss. Square and flat brushes are useful for final touch-ups to correct errors or make shadow lines look less sharp.
#3. Apply the conditioner on natural brushes.
You take care of your hair, so why not do the same with your natural brushes? Its thin bristles need to be conditioned as much as our locks. Normally, the conditioner matches the cleaning brush, if you buy it. But if not, you can also use any professional hair product.
A conditioner is a less aggressive cleaning product, which gives the brushes a pleasant aroma and covers the bristles with a protective film. The fluff is softer and the brush maintains its flexibility. Remember that good quality brushes at their best are half responsible for the success of great makeup.
#4. Make sure the face cream and makeup primer have a base.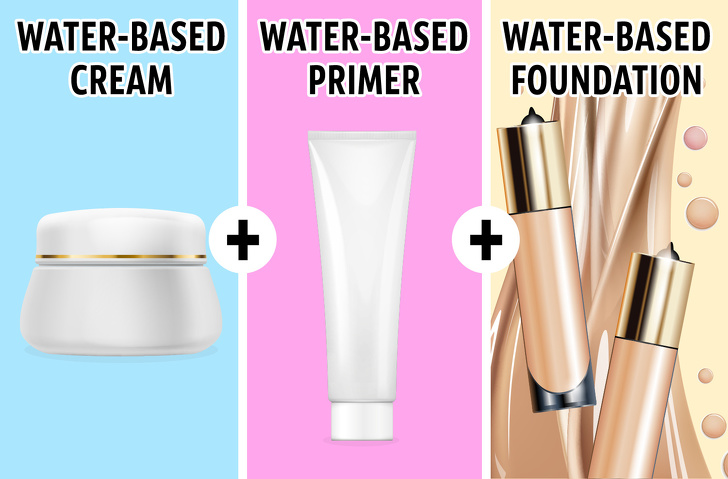 Cosmetics should adapt to your skin type and makeup every day. For example, your cream, primer, and foundation must have one base, water or oil. Oil does not react well with water, we know it in chemistry classes. It is important to know this rule when putting on makeup. The moisturizing liquid in the base (water) is not left on a very thick cream (oil).
It is easy to know the product base: water-based creams dissolve in water and oil-based creams leave an oily film on the surface.
#5. Try an eye primer instead of eye cream.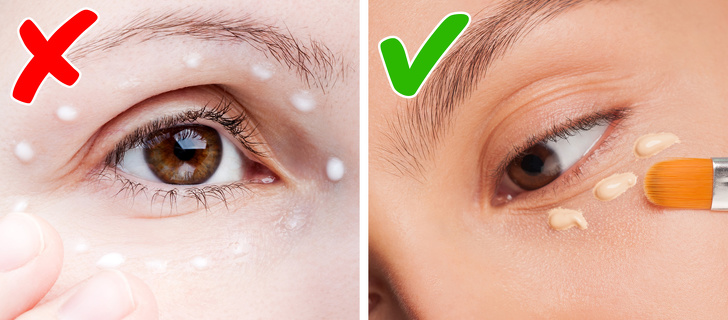 A smoothing primer is a light, semi-transparent light pink cream, rich in light-reflective particles. This primer highlights the area under the eyes and prepares it to apply the concealer. It also hides skin peeling and peeling instantly.
Be sure to clean the top oil cap on the skin. Excessive moisture will adversely affect the longevity of makeup.
#6. Use mineral powder the right way.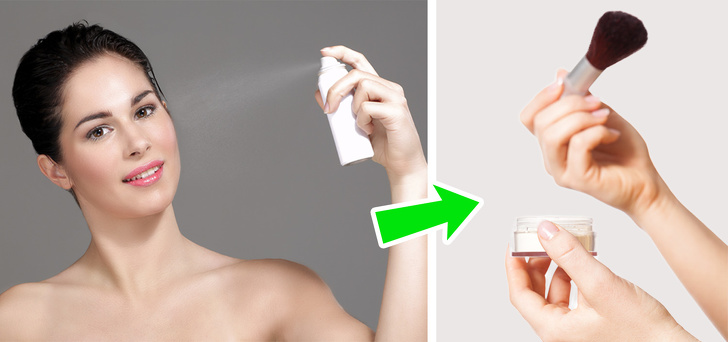 Mineral powder is a powder base. Its fine particles gradually dissolve in the primer oil and on the skin, creating a very thin cover on the face. This powder is ideal for hypersensitive, dry and faded skin, without causing excessive pigmentation. It will also be useful during the holidays since its cover does not melt in the sun or lose moisture, it also has a high level of UV protection.
It is also a "delayed action" product, as it may take 20 to 40 minutes before the final effect appears. For an instant effect, spray some moisturizer on the face just after applying the powder; its particles will dissolve in moisturizing components. Apply the powder with a large brush on the primer. But do not fix the base: they are similar products, so you end up with a mask effect.
#7. Cover under-eye bags correctly.

If eye bags are one of your main problems, focus on highlighting this area. Get a concealer with lighter shades than your skin tone and apply it under the eyes. The advice here is to apply the triangle-shaped concealer, from the inner corner of the eye to the outside and then to the wings of the nose. Shade the contours. This is how the swollen area will stand out evenly and will not attract attention with its volume.
#8. Shine bright like a diamond with strobing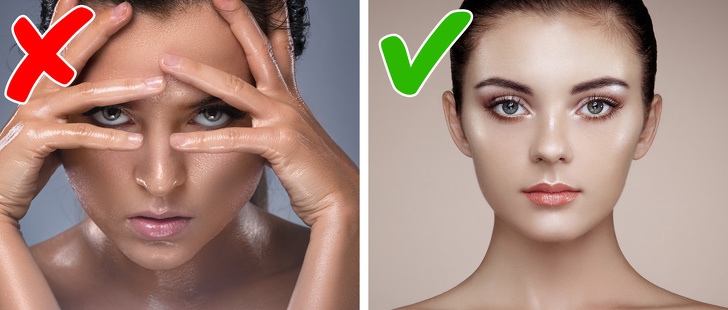 The strobe effect is one of the techniques that must correct the shape of your face. It's about highlighting some parts of the face with the help of products that reflect light. In other words, it gives your face freshness and a healthy glow.
However, the use of the strobe effect has some rules. Remember the following:
Skin fade with visible wrinkles: mix all products that reflect light with dust to avoid highlighting an irregular skin surface.
Oily skin: Never apply these products in areas with active sebum secretion, such as half of the forehead, cheeks or chin (also known as the T zone). This will create an "oily pancake" effect.
Inflamed areas: the reflection of light provides maximum volume. Use only matte products for these areas.
Skin with acne: pimples and dark spots will only be more visible if you apply light reflective products. Use them only below the base.
#9. Fill the upper lashes for a perfect appearance.
For the eyes to be more expressive, it is crucial to fill the empty spaces between the upper eyelashes. If white, white areas remain between the eyelashes when making smoky eyes or winged eyeliner, the makeup will look flat and imperfect.
A soft powder eyeliner is ideal for this task. Its texture remains firm between the eyelashes, creating a natural contour, it is easily washed, does not damage the eyes during application and does not stain the day. The principle is simple: the more intense you want your makeup to happen, the darker the color of the pencil will be.
#10. Give your shadow a new life with a wet technique.
Most shadows applied with a dry or wet brush look absolutely different on the eyelids. Dry shadows applied with the wet technique alter its structure. For example, matte shadows darken and get a dense felt finish. They are perfect to align your eyes and create precise lines. The bright shadows become cream and shine with a wet effect.
Wet the brush, squeeze it with your hand and then again with a paper towel. The brush should be slightly damp. You can also use makeup fixative spray, moisturizing facial spray or even eye drops for this. Shadows become similar to watercolors in this technique, so apply them with slight sliding movements.
As the cosmetics brand Urban Decay says, beauty must have an advantage. And we totally agree with them! What other daring tips and tricks can you share with our audience to achieve impeccable and bold makeup?